June 21st 2014
Happy Summer Solstice everyone! 🙂
I woke up at 5am because of jetlag and my husband, Santosh, is still sleeping. I've been wanting to write every day of the last month but things have been so busy. I want to remember all of the things that have happened and share them with you.
After I finished my defense, I packed and left to India. Leaving Germany was tough and I found myself thinking about my friends there very often. But there were several activities to be done as soon as I landed involving pre-wedding ceremonies, invitations to be handed out, shopping to be completed, blouses to be custom stitched on time, travels and visitors. There was also a 'bachelorette party' on the day before my brother landed from Finland at my school where friends from my school, undergrad and postgrad spent the day with me in school and spent the night exchanging funny stories. I especially missed my friends from Germany at this point.
There were calmer times too mainly because my parents took lead and did so much, most of the planning. The month and half before the wedding passed in a pleasant and busy blur. Once guests started arriving from out of India – family and friends – the pace really picked up. Here is an account of activities from when things got very busy till now. (Note: It's a very long email so don't try to finish in one go)
May 30th, Bangalore:
Most of the family group arrived. Until now what had felt like a normal family gathering at home, with focus on the small children playing and new guests, started to feel like a wedding house. The Mehendi people came over and we sat in turns to get our hands done. As the bride I had longer Mehendi uptil my elbows and even on my feet! I loved the patterns, I chose it with care while browsing several weeks before with my school friend who will be a bride in November 🙂 Though it took very long to put on, dry and take off, I remained unexpectedly patient because I knew this was the most special occasion on which I'll ever have it done. When I commended my own patience, my cousin challenged me about keeping my cool over the next two days…
June 1st, Bangalore:
Lots of prewedding ceremonies, and the Bangalore Reception and changing Sarees for each main event. People fussing over each fold, pinning things down in fancy new ways, fussing over my hair and make up until the official beautician arrived in the evening. It was exhausting and I felt aggressive at times but when I walked out, I was reminded I'm the bride. I took on a calm demeanor and walked slowly as a bride should 🙂 Switching modes was fun 🙂 No one outside knew what a monster I can be inside the Bride-room 🙂
I was very happy to have my cousin there who had flown in from the US only for the wedding, my young uncle's family also in the US currently, my two aunts from my mothers side both of whom came from outside India (Australia and the US) along with my younger cousins 🙂 and everyone from the family from different parts of south India. Cousin, niece, aunts and relatives from Chennai and aunt, uncle and grandparents from North Bangalore. It felt very special to have such a large family reunion. Some of my friends from my MSc days also came all the way from Europe (Edinburgh and Geneva) and overall emotions were high. You only get married once and I was over the moon that so many people could make it from so far away! It also meant a lot to my parents. The love was on overdrive 🙂
That evening, for the reception, people I hadn't seen in years came – family friends of my parents, grandparents, my school teachers and classmates, teachers from my undergrad years, and even this one person who had taken me around when I was a kid visiting my grandparents in Trichy- who I hadn't seen since I was 2 feet tall. I recognised him instantly though he has greyed. Trichy neighbours who taught me some music and played with me when I was a troublesome toddler also came. It was magically affirming to have the blessings of so many people. And everyone said great things about the food too 🙂
June 2nd, Bangalore:
Woke up early morning, 3am after getting to bed around midnight! (Rough night- I was so exhausted but had trouble sleeping and felt frustrated because I wanted to be super fresh and remember every small detail from my wedding day. My mum calmed me down. It was very stressful and tiring for my parents but they had some help from the rest of the family too.) I got ready and made up for the main wedding event. While I did Gowri pooja, Santosh went on Kasi Yatra (a skit played out as part of the wedding ceremonies) only to be brought back by my parents to marry me. We started performing ceremonies together – Antarabatte – where a cloth drops from between us and we see each other for the 'first time', Kankanadhaara – where the older married couples roll thread around us to bless us and tie up that thread into two wrist bands with a small turmeric tied in the middle. Once we are thus elevated to position of gods, the giving away of the bride happens and then the mangal sutra. I felt so happy when this was happening. You'll see it in the pictures 🙂 But soon after I turned to see my family – everyone was so emotional! I've never seen my dad cry before! My grandmas, my aunts, grandad, and my mum too. I didn't realise how much I and my getting married meant to them. It's not a casual, nice celebration, it's of big grand proportions of big grand and deep meaning. This overwhelmed me and I started crying too but the aachaar (pandit who does the ceremony) as well as some elders told me not to cry so I tried hard to hold it in.
Several ceremonies followed and the lunch together before which my friends left, possibly to catch up on sleep. Santosh and I had some pretty interesting chemistry in these days. We kept exchanging glances, our excitement at all the events must've been obvious. After lunch we registered the marriage and got the certificate we'd need for the US visa. My brother, my uncle, Santosh's dad and brother in law and my dad came for this paper work. My parents and Santosh had a long serious conversation, which I wasn't invited to but heard about later. Then it was more relaxed, we took a nap and were woken by an EPIC storm. I had wished for weather like this on my wedding day. The noise of the downpour was deafening, wonderful and the winds were so wild! My dad said I ought not wish for this as it causes inconvenience to guests. During my school days I believed I controlled the rain to some extent. In some ways I still believe it 🙂
The next morning we all packed and Santosh's family and I left on a big comfortable bus to Coimbatore. There was some more crying as I left. My grandparents especially, but my parents, and some aunts were quite calm. Everyone blessed us with happiness. In Cbe, we were welcomed with Arathi and again the spilling of rice as I enter their house. It's now my other home.
June 4th-5th, Cbe:
Relaxing in Coimbatore (Cbe), sleeping a lot, checking out a beautician who could help out on the 6th for the second reception, getting to know my in-laws in a more relaxed setting. Taking walks in the neighbourhood and visiting some relatives of Santosh including the cute 9 month old baby and her 4 year old brother. That family is very sweet. We visited the small Ganesha temple in front of their house too.
June 6th, Cbe:
The second reception was on this day for all the guests who couldn't make it to Bangalore, mostly from Santosh's side. It was far less exhausting than the Bangalore one because we had only this planned the whole day, no other ceremonies and changing sarees a billion times.
June 7th, Cbe-Chennai:
Santosh and I made our first journey alone together by plane from Cbe to Chennai in a small aircraft. We stopped by for tea at my CT and CP's place where we were given pretty royal treatment (a newly wed couple makes these formal visits to their relatives' houses and are welcomed as a couple for the first time.) Fresh bondas, freshly cut fruits, tea. My grandaunt went all out and as we left, they gave us gifts too! We then made our way to Ashoka Hotel where we stayed. It had a 60s posh look to it. We had our first 'dinner date' in Mathsya restaurant and had rasa vadai, chinese starter and north Indian main course. The rest of Santosh's family arrived in the night.
June 8th, Chennai:
In the morning there was a small housewarming ceremony of Santosh's sister and brother-in-law's house/apartment. There was some singing afterward. We lunched together with large group of the Chennai branch of his brother-in-law's family at Mathura restaurant and then Santosh and I left for fingerprinting US visa appointment.
June 9th, Chennai-Kalahasti-Tirupathi:
We went for US visa interview in the morning. Very easy questions very few documents were asked for. The organisation for both visa related appointments was pretty efficient. I was told to expect it in a few days. Easy peasy. Santosh hugged me when I told him the visa was approved! In public! We took packed lunch in an Inova, picked up my sis-in-law, her husband and his mum at their place and with Santosh and his parents too, we went from Chennai to Kalahasti. On the way we played the word game with Geography as the theme. Soon the individual player game became couple vs couple with the older generation to help out once in a while. This game continued even till the next day when we parted ways. We gorged ourselves on Kilimooku Mangoes (slice them into narrow strips while they are just about to ripen, add salt and chilli powder and eat! It's a burst of tang, spiciness, with a touch of salt and sweetness) and had very relaxed fun conversations.
Kalahasti is a Shiva temple of wind.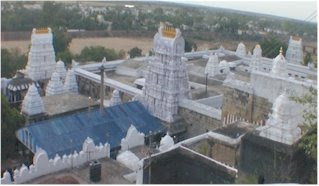 It's beautiful, old, and the inside is amazing lit only by grand traditional lamps. The lingam is impressive and I got Bilva leaves when no one else did 🙂 felt like Shiva favours me a little :). By the time we got out, the rain was pouring down in epic and dramatic ways. I loved it – combination of my favourite god and favourite weather. But this made us late in meeting my family in Tirupathi main town. We ate together and left for the uphill ride to Tirumala, where the temple is. Really well organised place, high security and one road leading up and another one-way leading down. Saw only some lights on the hill at night and the towns clustered below. It took us quite a while to find the place to stay because of the name confusion between Sneha and Snehalatha. And there was some confusion with the room too which caused some discomfort but overall, the place was very well maintained for the fifty to hundred thousand people who visit per day (30-40 million per year). It's also the richest temple of any faith in the world with gold plated gopurams.
June 10th, Tirumala:
Reason for going to Tirumala – Each family has a temple they go to for the most important occasions or around once a year. Mine used to be Karur Temple- which is pretty small, quiet and hardly ever has queues to see the god. But after I got married, I now 'report to' the god Venkateshwara of Tirumala as part of Santosh's family. Apart from the recent wedding, my family has been called there by various 'signs' in the last couple of years. People who have no reason to be in touch with us visiting with Prasadam to share from Tirupathi on multiple occassions. And a path clearing for my family to go there, though my brother and I have never gone there before. Though people are somewhat relaxed about other temples and gods, it is said that if you break a deal with this god (he is the business partner to many and wish trader), you're pretty much a gonner. From the quaint, it seems I've moved to the grand and powerful.
That morning we saw the scenic views from the balconies of Snehalatha residence we stayed. Had a delicious and filling breakfast at Sarangi restaurant – Masala dosai and Pesarett plus cold badam milk for me and finished Santosh's coffee. It was Santosh's dad's birthday too. Made our way to main temple area, got into Kalyana Utsavam line and made it through the beautiful big temple of Tirupathi/ Tirumala. We sat watching the KU both on broadcast and then live and we had the quickest line to see the main god of the temple. I'm not religious normally and visits to temples are mostly because of my parents but this god, this temple… there's something so tangibly powerful about it. When I saw him, it was like a trance, all thoughts left my mind, all things I wanted to ask for went blank. All I could do was look and look, and in those 10 seconds my heart seemed to fill with something I've never felt before. I know happiness, this was more than that, like positive calm and peace but very intense. Elation.
We went through some more queues to pick up Prasadam etc and made our way out, packed, left back downhill. I saw in these couple of days more clearly how responsible and caring Santosh, keeping the group together, taking lead on organising things, running around getting things done, keeping the group together, protecting me from the rush of the queue. Scenery was great in the day light. The hill was made of magical red layered rocks. Langoors and monkey babies were easy to spot. There was nature, quiet and great temperature at the elevation, good air.
We also went to Tiruchanoor where the Padmavathi temple is and she was beautifully adorned too! After eating, Santosh's side of the family left on a taxi back to Chennai to catch the night train to Cbe and we left by train to Bangalore for a day.
June 11th, Bangalore:
After spending the night on the train – AC first class with my parents and brother, we arrived in Bangalore. I felt good to be in Bangalore, my hometown with my family and my energy levels shot up despite insufficient sleep on the train. We were welcomed with Arathi and had idly for breakfast which my grandma made with 2 chutneys, sambar and molagapodi! Such soft idlies! We then opened the wedding gifts. Exciting. It made me want to set up house in Bangalore immediately. I wondered again why we're leaving, why we can't just stay in India. We looked through my childhood pictures with actual albums just after lunch. While Santosh took a nap, I played with my almost 3 cousin, talked to my aunts and grandmas from both sides of the family. Santosh, my parents and I had a nice tea and chat in the early evening about our future plans, pros and cons of moving back to India etc. Before I knew it it was dinner time – we had to board another train to return to Coimbatore. It was very fancy – AC first class again and this time we had it all to ourselves. Pretty good sleep though we had to rise early. I felt sad to leave home and Bangalore but didn't cry this time.
June 12th, Cbe:
As we arrived from the train station, preperations were already underway for the Satyanarayana poojai – a religious ceremony that those who are starting new parts of their lives do. Santosh's extended family had come including the 9 month old girl who everyone fought over to hold and entertain. Santosh's side of the family is very sweet, welcoming and friendly. There is a lot of friendly teasing, fun and light heartedness and high energy which makes me feel at home. In the evening we went to a jewellers to change the thread mangal sutra to a metal chain one. It is a relatively new but now considered the most important sign of a married woman in India. Later we picked up my passport, with the US visa in it.
June 13th, Honeymoon(HM):
We took an early morning taxi to Mettupalayam, where we caught the Toy Train to Ooty. It was a very scenic route, climbing uphill, not to mention quite an engineering feat with the mid track for grip as we climbed higher into the mountain. On the way, a wild tusked elephant stood in the middle of the tracks! Everyone stood to take photos and gasp in astonishment. We stopped, and when it walked towards us, the train reversed until the lone tusker found his way away from the track. We were very lucky to run into elephants out of a reserve/protected area, right on the track! The people on the train had a great time taking pictures of it. We also saw lots of wild peacocks too, some with fanned out wings, beautiful!
From Ooty we went downhill on the other side to Masinagudi, a resort where we stayed for the next 4 nights. We had packed lunch made by Santosh's mum and sister. Nothing like homemade food! Walked around the resort, bamboo clusters creaking in the wind, perfect temperature, bird calls, quiet and peaceful.
June 14th HM:
Mostly lazed around, walked around even outside the area of the resort, saw woodpeckers and ostriches, played carrom, lay on the hammocks outdoors and looked at the sky through all the leaves. The local people told us not to venture out after 6 or 6:30pm as there are lots of wild animals that could be dangerous. We came back indoors by 5:45. Santosh found out later that the resorts in this area will be closed in another few months because the reserve is being extended for the elephant and tiger populations. Seemed like the environment was being taken seriously at least in one part of the country! I was glad to hear it and felt lucky to have gone there when it was still open to humans.
June 15th HM:
On a morning walk we visited a Mariyamman temple nearby. I had to face my fear of horned bulls (which chased me once in my school). And realised that goat sacrifice is done for this goddess. Santosh took me away before it happened trying to reassure me that they do it sustainably. Didn't help much.
Visited the Elephant Camp in the evening (feeding and rest area for temple and wild elephants in need of care) and then went for jeep safari with tribal Harian along a river to increase our chances of seeing wild animals. We saw spotted deer, big plain brown deer with huge antlers, wild boar, Indian Bison, peacocks, peahens, normal monkies and langoors. It got dark by the time we got back and the stars were bright.
June 16th HM:
Early morning we got up and went for Bird Watching. We spotted roughly 30 different species, learnt about their calls, movements, nests, and which ones aren't here because they visit during winter from the Himalayas. Very stimulating. I can understand why birding can get addictive! It requires a sharpening of senses. We also saw a giant red squirrel off a branch. I have a list written down of all the species we saw – Masi, another local guide took us and taught us all this. He is connected to some big names in Indian Wildlife.
In the afternoon we both had back massages from on-resort professionals and spent the rest of the evening playing. I lost badly at carrom, stalemated with chess and enjoyed some Tamil and Bollywood kareoke with Santosh.
June 17th Cbe:
Returned to Coimbatore from the Honeymoon through Ooty by 2pm ish late lunch on banana leaf!, started organising things for packing, had light fruit dinner (Naaval Pazham with salt and chilli powder and Jackfruit) after many heavy filling meals at the resort.
June 18th Cbe:
We did the largest amount of packing this day. To fly to the US. My parents and brother came around noon to spend the day with us and see us off in the night flight along with Santosh's parents and sister. The two families are bonding really well.
June 19th afternoon:
Landed in the USA, pleasant weather! Natural scenery on the way to Sunnyvale is beautiful! And everything is so big here! Cars are like monster trucks and roads are wiiide… I wonder what new adventures I'll have here, what I'll learn, who I'll grow into as a full adult and a married woman.
Since then:
I got done unpacking last night. Slowly settling in. It feels surreal and special to be in this flat after seeing it on skype so often. Jetlag seems harder to recover from than to and from Europe. Afternoons are groggy-zombie like and early mornings feel energetic. Santosh has been taking care of me – showing me around (most things are not walkable or public transport friendly) the shops, taking me to the bank, getting me settled and cooking for me! It's wonderful to be married to him. He's thoughful, caring, fun, addictive… I could go on… I feel like the luckiest woman on the planet.
What now:
I look forward to meeting a lot of Santosh's friends here, I've already met his cousins family in the same apartment complex – she is so sweet and welcoming and her kids are amazing, smart and cute 🙂 I will also start looking for things to do. I have to learn how to drive and follow all these road rules. Frankly the speed of traffic here scares me. I like smaller slower roads like city roads in Oldenburg or even the chaotic slowness of India. Feels like major damage can be done here. But as I learn I think the fear will give way to some kind of excitement.
I'll send another update more focused on the 'Merrricans as I learn more about them 🙂 And send pictures when I get hold of them myself.
Until then, my best wishes to you all.
Affectionately,
Janani
---
See also